Hello my lovelies
I love love love Christmas, it is my favourite time of year and with it fast approaching myself and Georgina over at Makeup-Pixi3 have decided to team up and do a World-Wide Secret Santa!! We are totally excited about this and we are thrilled to launch this idea to you all today!
Hopefully you will all love this idea as much as we do and if you are interested in taking part all you need to do is follow the rules below.
Finally to help promote the world wide secret santa swap and to show you are taking part: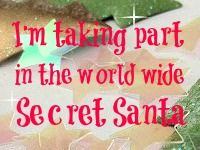 right click and save this picture, put it on the side of your blog and link it back so if others are interested they will know how to take part too
Should you have any other questions regarding this you can also leave a comment below.


Disclaimer
We will not be held responsible for individuals not sending their packages out on time, all parties are trusted to uphold their end of the agreement.